Wildstar farm is a private horse stable under development at 401 Sandy Valley Road in Westwood, Massachusetts, a suburb of Boston. We plan to periodically update this web site to keep the public informed about our activities.
Wildstar Farm is located 8 minutes from Exit 16B on Rt.128 and only 30 minutes from downtown Boston. It is located on a secluded, owner-occupied country estate. Note that Wildstar Farm will not be offering lessons or other services to the public.
What type of stable will Wildstar Farm be?
Wildstar Farm will be a private boarding barn for a select group of dressage riders. We expect to have 18 stalls available for boarding (22 stalls total) to serve approximately 10 owners. We are committed to being good neighbors as well as good stewards of our 16 acre-parcel and the adjoining 68-acre Lowell Woods conservation area.
What is dressage?
Dressage is a type of riding in which horses perform precise maneuvers in predetermined patterns. Dressage originally grew out of the Spanish Riding School in Vienna and is now an Olympic sport. Its fundamental purpose is to develop a horse's natural athletic ability and willingness to perform. Dressage is typically performed in a 20 m x 60 m (66 x 197 ft.) riding ring or arena. Dressage is sometimes compared to ballet or figure skating in that it consists of compulsory exercises that are often combined in choreographed performances. To view a superb example of a dressage freestyle program, visit http://www.youtube.com/watch?v=zKQgTiqhPbw.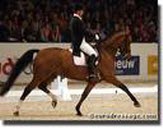 Per Sandgaard, Swedish Olympic Dressage Rider
What types of horses are most suitable for dressage?
All types of horses can do and benefit from dressage riding. However, most dressage horses seen at the Olympics and other high-level competitions are warmblood sport horses.
Will Wildstar Farm be open to the public?
No. Wildstar Farm will only be open to those individuals boarding a horse here. The Farm will have set days and hours of operation.
Will the public be able to take lessons at Wildstar Farm?
No. Only individuals who board horses at Wildstar Farm will be able to use the facilities.
Does Wildstar Farm plan to host horse shows?
There is no plan to host horse shows on the property. Boarders will be able to train in the regulation-sized indoor arena and outdoor ring, but they will have to travel elsewhere to compete.
What facilities will you have at Wildstar Farm?
Wildstar Farm will have a barn attached to an indoor dressage arena (20m x 60m). The Farm will also have an outdoor riding ring of similar size.
What type of staffing will Wildstar Farm have?
A farm manager will live on-site to oversee the care of the horses. The farm manager will be in charge of feeding, turn out during the day, grounds and facilities maintenance, and community relations.
How much traffic will Wildstar Farm bring to Sandy Valley Road?
Because many high-level dressage riders own multiple mounts, Wildstar Farm expects to board horses for between 8 and 12 owners. Barn staff will be responsible for daily care of the horses, including feeding them and putting them out in the outdoor corrals ("paddocks") during the day. Each owner is likely to come ride 3 to 4 times a week, often during daytime hours. We expect that 4 to 7 boarders may travel down Sandy Valley Road to Wildstar Farm per day.
What about trucks and trailers?
Hay deliveries are likely to occur twice a year in late spring/early summer and early fall. Other supplies (to be purchased locally as much as possible), such as bedding, will be delivered on an as-needed basis.
Wildstar Farm will ensure that there is at least one horse trailer on the property at all times for use in medical emergencies. A few boarders may also park their personal trailers at Wildstar Farm on a short- or long-term basis.
Will boarders be able to ride outside the ring and arena at Wildstar Farm?
Boarders at Wildstar Farm will be welcome to ride their horses on our 16-acre property.
Are dressage horses suitable for trail riding?
Dressage riders and horses practice their maneuvers within the confines of a formal riding ring or arena. On occasion, dressage riders and horses may enjoy taking a break by riding out on a trail (called hacking), usually at a walk or slow trot. Because dressage horses tend to be very valuable (often worth tens or hundreds of thousands of dollars), their owners seek to minimize risk and the possibility of injury.
Are horses allowed to go in the adjacent conservation area known as Lowell Woods?
Like cross-country skiing, snowshoeing, dog walking, and jogging, horseback riding is a form of passive recreation. As such, horseback riding is permissible in Lowell Woods.
Will there be problems if people, dogs, and horses all try to use the woods?
People, dogs, and horses share many conservation and recreation areas throughout Massachusetts. For a good example of how people, dogs, and horses can co-exist, look no further than Westwood. Since its inception, Hale Reservation has encouraged families, dog walkers, and equestrians to share the beauty of the town's open space and woodlands.
How will manure be managed at Wildstar Farm?
Each stall will be cleaned at least once daily and each paddock will be picked up weekly. The manure and other waste will be stored in a metal dumpster on a concrete pad surrounded by concrete walls to prevent leaching into the ground. The entire manure area will be covered by a roof to prevent rainwater from entering the dumpster and to minimize insects. The dumpster will be removed when full (probably twice monthly) by a contracted professional company that will deliver a new dumpster at that time. The manure will not be emptied out of the dumpster at Wildstar Farm.
Will the manure seep into and damage the wetlands?
No. Wildstar Farm will implement a strict manure management program that meets or exceeds the requirements of the Massachusetts Department of Environmental Protection as well as the Westwood Conservation Commission. Farm staff will pick up loose manure from outdoor paddocks weekly and dispose of it in the dumpster.
How will Wildstar Farm control flies and odors?
Proper manure management and moisture control are the two biggest keys to preventing flies and foul odors. Removing manure daily from stalls and storing it in an enclosed, covered container is the primary method of defense against both problems.
Does Wildstar Farm require permits from the Town of Westwood?
As an agricultural facility, the stable is an allowed use under Massachusetts statutes. Because portions of the proposed construction are within 100 feet of wetlands, the construction is subject to conservation review. Wildstar Farm has received an order of conditions from the Westwood Conservation Commission under the Wetlands Protection Act. Wildstar Farm will also receive a review of its site plan from the Town of Westwood.
What is Eastern equine encephalitis? Could my family get it from the horses?
Eastern equine encephalitis (EEE) is a viral disease that can affect humans, horses, and birds. The disease is named 'Equine' because it can be fatal to horses not because they are sources of the disease. According to the CDC contact with infected horses does not pose a risk of contracting EEE to humans, other animals, or insects. Horses are considered "dead-end" hosts for the virus; that is, the amount of EEE that accumulates in the equine bloodstream is insufficient to infect humans, other animals, or mosquitoes. As such, EEE is transmitted to humans only through mosquitos, which collect the virus from birds. There are approximately five cases of human EEE infection per year in the U.S.
SOURCE: Eastern Equine Encephalitis Fact Sheet, Centers for Disease Control and Prevention (http://www.cdc.gov/ncidod/dvbid/Arbor/eeefact.htm).

Are horses noisy?
Horses rarely vocalize except in breeding situations. Since Wildstar Farm will not be a live breeding facility, it is unlikely that anyone off the property will hear the horses when they nicker gently to one another. (As is common practice Wildstar Farm expects to impregnate mares only by artificial insemination.)
I've heard that Wildstar Farm intends to be "green." What does that mean?
We hope to install solar panels on the barn and indoor arena to collect electricity to service lights and power throughout the facility. We also plan to collect rainwater in an underground cistern for re-use for non-potable purposes, such as irrigation and misting of the indoor arena.
Download Q & A about Wildstar Farm
To establish Wildstar Farm as an agricultural business while we await the necessary approvals to start building, we have created the Wildstar Farm Manure Co-op. You can support our efforts by buying one or more shares at $10 each. As a member, you are entitled to pick up as much (or as little) compost as you want each year.
Other Ways to Support Wildstar Farm
Show your support for Wildstar Farm by wearing and carrying Wildstar gear.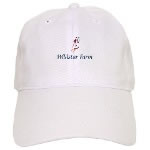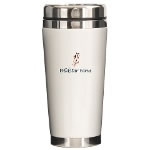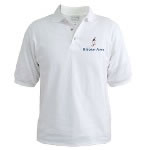 These items and more are available at the Wildstar Farm online store.
For more information about Wildstar Farm, contact Polly Kornblith at 617-504-5299 or pk@wildstarfarm.com.